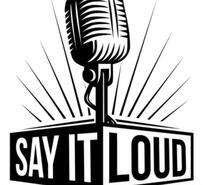 Say It Louder
A Resource for Community, Conversations and Change
Black in a White World: Experiences of Race and Trauma
"The Psychosis of Whiteness is a documentary film that sheds light on society's perceptions of race and racism by exploring cinematic representations of the slave trade... Rather than blaming the powerful institutions that are responsible for slavery, these films rewrite history by praising those same institutions for abolishing the slave trade." Wider discussions of chattel slavery, its long impact upon Africa, the Caribbean and the Americas, including their indigenous peoples, are way beyond the scope of this resource. Everyone is encouraged to do their own thorough research and share their story.
Disclaimer: the experiences on this resource are not comprehensive, but hopefully enough to spark your curiosity! A longer list of topics can be find within the Say It Louder Handbook . If you have an experience or perspective that you want to share, send a message to [email protected]
Ain't I A Woman?: Blackness and Gender
Blacks Got to Be Free: Tales of Struggle and Liberation
Saying It Loud: Present-Day Voices
Mark your calendar, tell your friends, it's time for
Say It Louder: Poetry, Music and Liberation
We will be showcasing Black performers and activists who are tackling the big issues from around the world.
There will also be time to talk about issues that are affecting us today. How can we make change? What is the role of artists? What can we all do? Everyone is welcome in the discussion.
When?: Every second Saturday of the month.
[Update: recordings will be available soon. THANK YOU to everyone who made it a great time]
Our Next Event -
Saturday 8th August
19:30-21:30 UTC+1
14:30-16:30 EST
Hosted by rising talent Marly Liman, and featuring from the USA:
~C. A. Williams
~Sommer Jade

as well as poetry from across the UK:
~Lakehall 'Rohan' Samuel
~Mark 'Mr T' Williams
~Tré Ventour
~Zed Regal

with vocals from
~Norva MacIntosh
More artists will be performing in our open mic to close the event. Don't forget to join in the discussion!
Meeting ID: 885 9125 7226
Passcode: 419132
Turning Dreams into Reality: Useful Links to Get Started